Multidisciplinary RDI
Multidisciplinary RDI
#focusareas
Multidisciplinary RDI
In the multidisciplinary research, development and innovation focus area we combine the expertise of Savonia UAS' five educational fields to strengthen research, development and innovation work (RDI) that transcends North Savo's industries. Our area of ​​strength covers RDI activities in the cultural and creative sectors, business, tourism and catering, as well as the construction and social sectors.
As global challenges, Savonia's actions are guided by the global action for sustainable development agreed at the UN in 2015 and the corresponding sustainable development goals (Agenda 2030), as well as Human Security. In addition, each focus area has challenges typical of its own operations and missions related to solving them.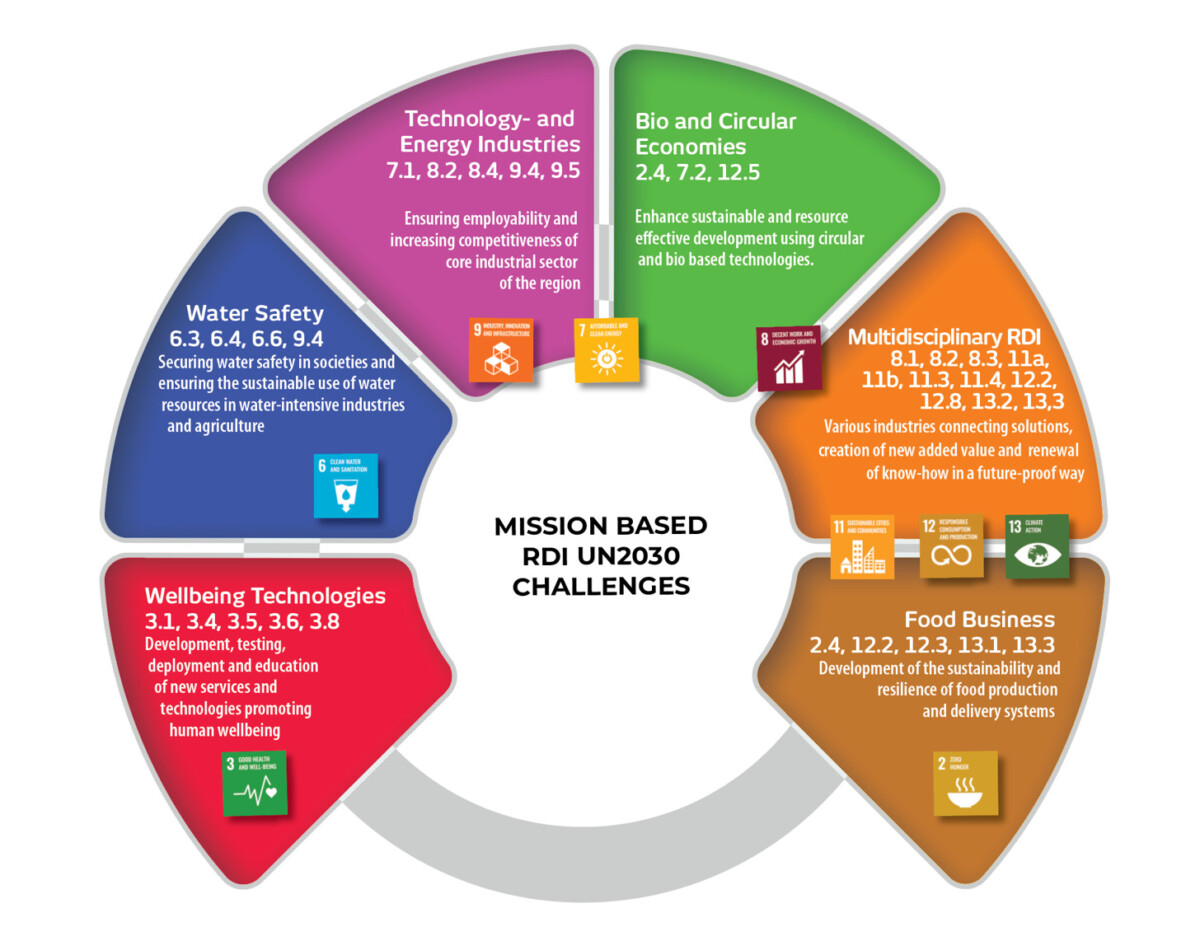 The Multidisciplinary RDI focuses its activities especially on agenda goals 8 (Decent work and economic growth), 11 (Sustainable cities and communities), 12 (Responsible consumption) and 13 (Climate action).
We implement national and international projects in which we develop new innovations and new business as well as renew expertise. Our key partners are the identified business ecosystems of Pohjois-Savo with their own partner networks.
Contacts
RD Manager
Antti Iire
+358 44 7856925
antti.iire@savonia.fi

Research Manager
Tuomo Eskelinen
+358 44 7856613
tuomo.eskelinen@savonia.fi

RDI Team Leader
Raisa Leinonen
+358 44 7855 833
raisa.leinonen@savonia.fi
Multidisciplinary RDI Articles
Examples of our ongoing projects:
Speed to digitalization with 5G
5G technology points the way towards a new digitized industrial generation, Industry 4.0, which can be used to increase both productivity and the ability to meet industry's sustainable development goals.
Supporting a maturing young person with high-quality aftercare services
The project aims at the high-quality and effective development of child welfare aftercare work in Pohjois-Savo and thereby ensuring and strengthening the working careers of young adults.
EFE
Ethical Food Entrepreneurship
EFE equips a new generation of food entrepreneurs to start, grow & adapt new ethical food enterprises who consider the effect of the food industry on the PLANET, PEOPLE and PROFIT. EFE increases the pedagogic skills of food HEI Educators.
Future DiverCities2
The project's spotlight is on city-oriented art and cultural activities, which try out new uses for empty spaces in cities and encourage resident-based development of urban culture.​ Nine European cities are involved in the experiments. ​
ILCA
Innovation Laboratories for Climate Actions
Innovation Laboratories for Climate Actions jointly develops the innovation capacity of universities and research institutes in an international project.
Luova REAKTIO!
Networks creating new value
In the project, we will learn how to combine digitality with modern event productions. The project also promotes the digital service activities of companies in the creative industry.
LEAP
The LEAP growth program offers support to SMEs in the North Savo region in strengthening competitiveness, accelerating growth and expanding the market!
Digital Routes North Savo
The project's measures promote the digitalization of tourism and the ability of SMEs to meet the challenges of digitized tourism.
More information from:
Project Manager Mira Saari
+458 44 785 6017,
mira.saari@savonia.fi
SysteemiHiili
The main goal is to improve methodological capabilities and understanding of the impact chains and overall effects of land use changes, as well as to support the introduction of climate-wise, sustainable and cost-effective solutions at the national, regional, drainage area level and at local levels.​​
Virtual Market Place
The Virtual Market Place guarantees a completely new shopping experience when visiting brick-and-mortar stores from the comfort of your home!
In the project, small entrepreneurs in the province are offered the opportunity to learn more about online trading and modern marketing.
Savon Helmiä
Savon Helmiä is a project that brightens the customer experience of cultural destinations around Kuopio and creates new business concepts.
More information from:
Project Manager Sanna Rantala,
+358 44 785 6664
sanna.rantala@savonia.fi
Futureproof ecosystem work (Ecosystem 2)
The goal of the project is the user-based joint development of North Savo's ecosystems and cluster cooperation.
HiiliAurinko
HiiliAurinko creates an operating model and calculation tools especially for the assessment of the carbon footprint of SMEs and the optimization of the solar electricity system.
More information from:
Project Manager Jari Niemelä,
+358 44 785 5753,
jari.niemela@savonia.fi
Universities for Sustainable Development
The project aims to achieve the goals of sustainable development by digitizing the implementation of Agenda 2030 in the universities belonging to the consortium. The coordinator of the project is Universidad Pablo de Olavide (ES).
More information from:
Project Manager Anni Kesänen
+358 44 785 6939,
anni.kesanen@savonia.fi
Waste4Soil
The project develops technological and methodological solutions for recycling food waste from the food industry into local bio-based soil conditioners to improve soil health.
More information from:
Project Manager Tuomo Eskelinen,
044 785 6613,
tuomo.eskelinen@savonia.fi
Resilience, Green Transition And Digitalization of SMEs
Project is part of a unique national entity that brings together 22 universities of applied sciences. The goal of the joint project is to support companies in their ability to change and particularly in recovering from the crisis caused by the Covid-19 pandemic..
Become our partner – contact us using the form below!