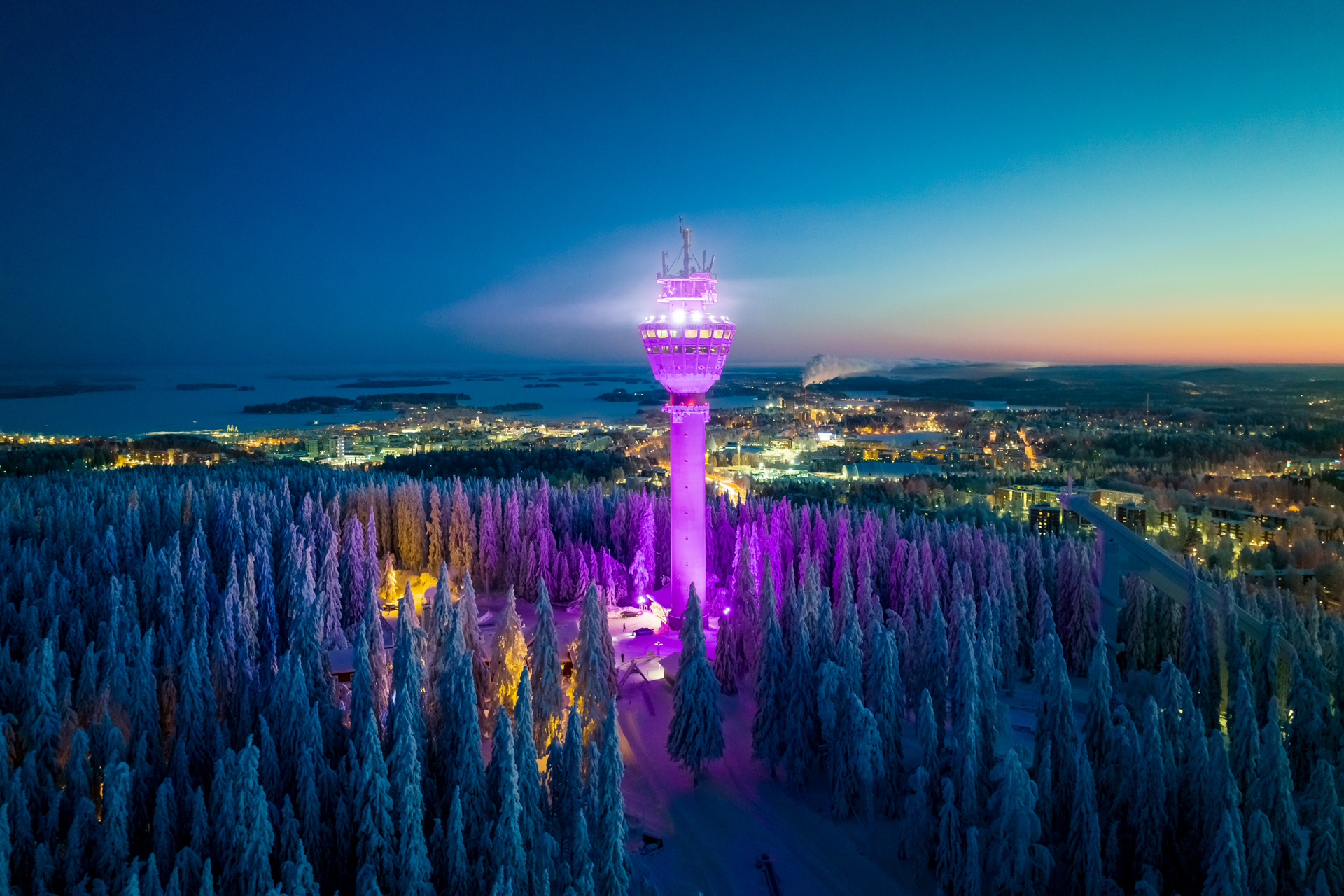 Savonia Article: Excursion in Brussels – What We Learned and Saw?
#SavoniaUAS
We joined Working and Studying in International Environment at Savonia (Savonia UAS). We are Master's Degree students from Social Services and Health Care.
When we were booking and planning this trip, we didn't know each other. Some of us had shared joined online courses, but we met first time at the airport.
Getting to know European Union institutions
At Tuesday we gathered with our group and with our principal lecturer Pirjo Turunen in front of European parliament. MEPs assistant Iida Ahonen led us to the meeting with finnish MEP Sirpa Pietikäinen. Security surveillance was strict and our passports were checked trough outly.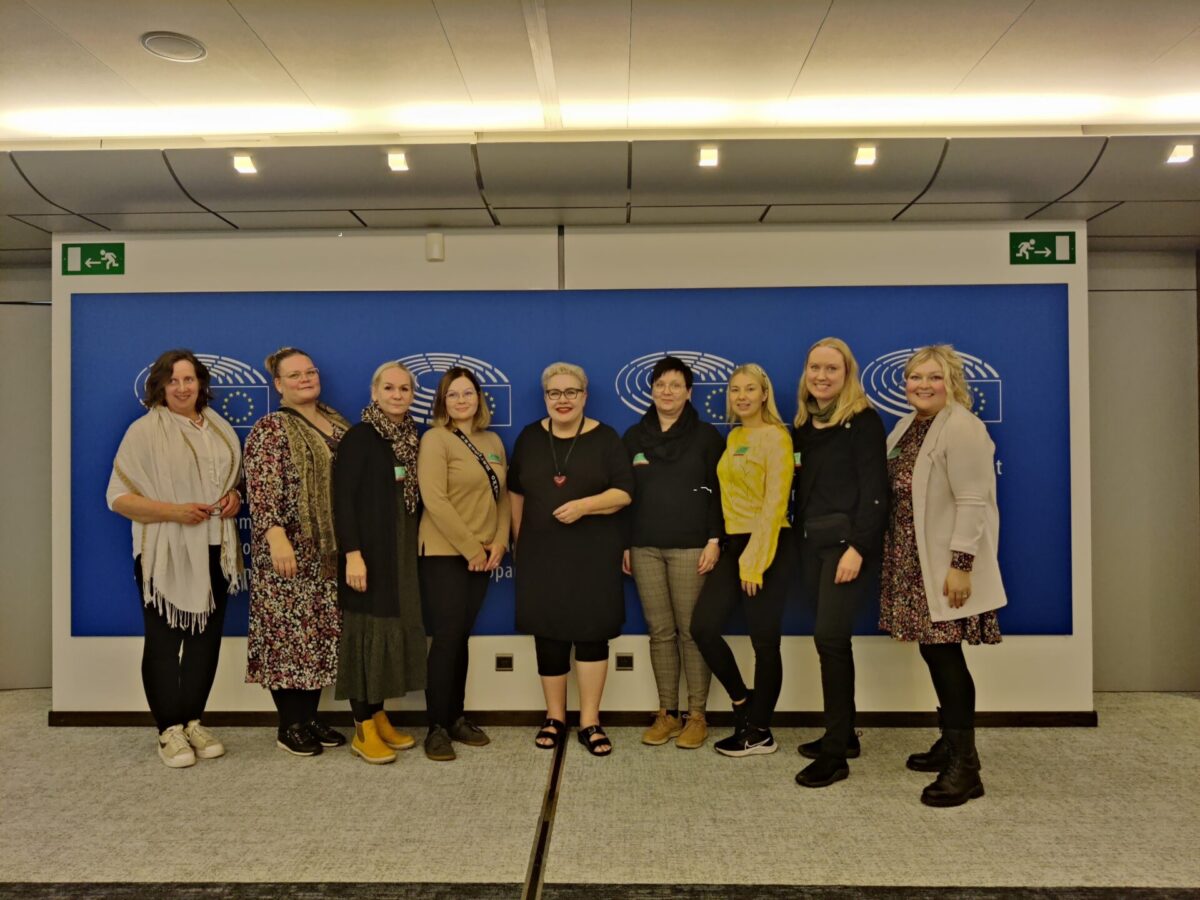 Meeting with Pietikäinen was inspiring: she is big personality, charismatic and influencing persona who likes to discuss about welfare and health related issues.
MEP Sirpa Pietikäinen explained us how EU works. She described EU as a three-headed dragon.
– The first head is European parliament – it is the voice of the citizens. The second head is Committee – it represents local administrations. The third head is Council – there are ministries from every member states. This means, that every head needs each other, and no one cannot bite each other, because all the heads would die. In EU, we need to work together for the best outcome, Pietikäinen says.
Our group visited also The East and North Finland EU Office. The office promotes the interests of its stakeholders in Brussels by following up and reacting on EU policies, legislation, and political development that is relevant to eastern and northern Finland.
The main idea is to know the needs of these regions and their actors.
While visiting the office, they hoped for low-threshold contacts with the office. Finnish interns and officers are highly needed in Brussels. The atmosphere was warm and immediate, we recommend taking contact to them, if career in Brussels is interesting to you.
Care strategy
While visiting the Finnish MEP Sirpa Pietikäinen we discussed about welfare strategy. Problems in care are similar in all of the EU area. Pietikäinen said:
– We need common actions to improve high quality care and provide similar services to all EU citizens.
Care strategy is about to start in autumn 2022. Read more by clicking here.
Visiting KU Leuven University
We visited Leuven University campus of social department, were we had lecture about social policy and differences and similarities between Finland and Belgium social work and trend in social work research. The lecture was given by Koen Hermans and Wim Van Lanckers.
At the lecture, we learned differences in healthcare, poverty and social matters between Finland and Belgium. When comparison, Finland has less people living in average poverty line, than in Belgium. Also, other social issues and health is better than in Belgium.
In our group we discussed about our jobs and skills what are needed in different fields of social and health services. It was inspiring to find out similarities and differences, what kind of professional backgrouds each has. We learned from each other and also got new ideas to widen one's skills.
Personal experiences about culture in Brussels
City is colourful and international. Buildings are jugend style. We were confused about garbage disposal system: garbage bags are left behind doors on different days: mixed waste on Friday, cardboard on Wednesday, and so on. There were no garbage cans. Also, buildings were quite cold and humid.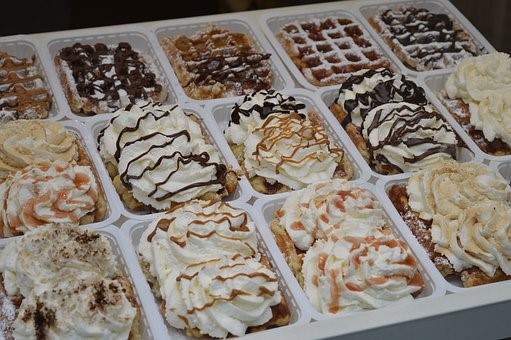 Chocolate was great, also waffles cannot be compared to any other countries waffles. Beer culture is strong in Belgium and there was lot to choose from.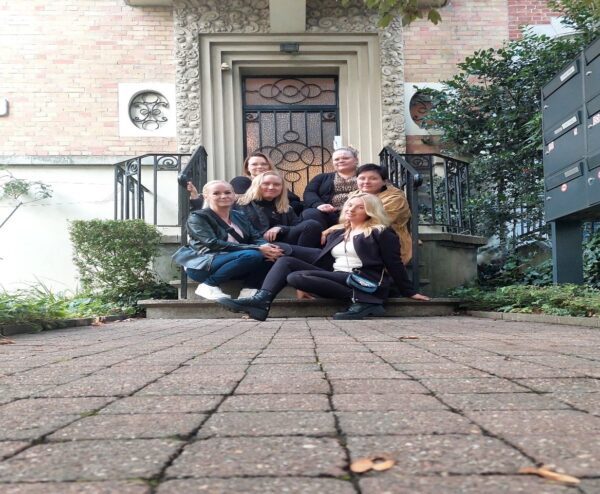 Salaries are higher in Brussels area than in Finland, but also the taxes and other fees are higher than in Finland. Rent fares are quite like in Helsinki, f.e. two-bedroom apartment is about 1200e per month. Many times, students choose community living.
Summary
To sum it up, the trip was much fun, laughter, bonding and learning new things about welfare and wellbeing. Our principal lecturer Pirjo gave us good feedback about our group dynamics. We had fun, deep and good discussions. We got along great. We encourage everyone to join these kind of trips, because they are once in a lifetime experiences.
Travelling widens the way we look at the world. We gained perspectives on active society and the promotion of well-being and health.
Authors:
Nina Argillander, Pirjo Böös-Mentu, Heli Dahlblom, Hanna-Riikka Hyttinen, Anni Kuhmonen, Carolina Mikkonen, Laura Muona ja Riikka Teeriaho, Master's Degree students in Social Services and Health Care, Savonia UAS.
Pirjo Turunen, Principal Lecturer of Social Sciences, Savonia UAS.
Sources:
EIGE (2017) Economic case for gender equality in the EU. https://eige.europa.eu/gender-mainstreaming/policy-areas/economic-and-financial-affairs/economic-benefits-gender-equality 11.10.2022
Sources that are in Finnish:
Eurooppa-neuvosto (2019) Uusi strateginen ohjelma 2019-2024 https://www.consilium.europa.eu/media/39915/a-new-strategic-agenda-2019-2024-fi.pdf 11.10.2022
Euroopean Union https://european-union.europa.eu/index_fi 11.10.2022
EU-parlamentin hoivaraportti: https://www.europarl.europa.eu/doceo/document/TA-9-2022-0278_FI.html 14.10.2022
Euroopan päämäärät ja arvot: https://european-union.europa.eu/principles-countries-history/principles-and-values/aims-and-values_fi 11.10.2022
Euroopan talous ja sosiaalikomitea https://www.europarl.europa.eu/factsheets/fi/sheet/15/euroopan-talous-ja-sosiaalikomitea 11.10.2022