Registered Nurse, Bachelor of Health Care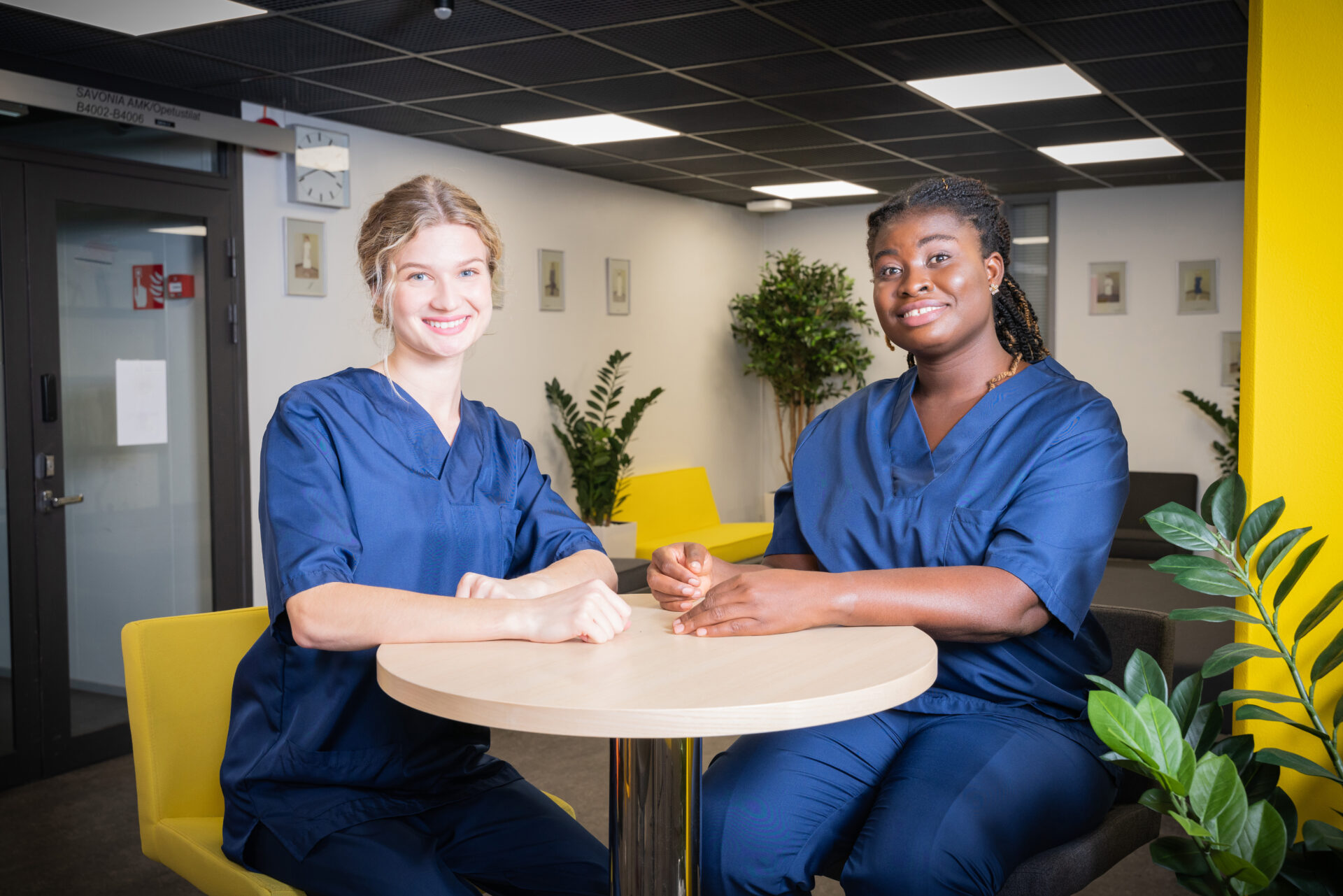 Registered Nurse
Bachelor of Health Care
Become a competent and highly skilled registered nurse!
NEXT APPLICATION PERIOD: To be announced
Degree programme: Registered Nurse
Degree title: Bachelor of Health Care
Duration: 210 ECTS, 3.5 years
Study mode: Full-time studies, on Campus
Study place: Microkatu campus, Kuopio, Finland
Language: English
Annual intake: 25
The Bachelor of Health Care, Registered Nurse programme develops competent and highly skilled nurses with excellent knowledge of encountering, supervising and caring for people with diverse health issues.
During your studies, you will master the required concepts, methods and skills to enable the critical assessment and decision-making in changing and unpredictable nursing situations. You will also learn how to oversee professional work and projects, and how to work in expert jobs within the nursing field. Moreover, you will be capable of assessing your skills, and the skills and development of other people and teams. You will confidently be able to apply, assess and analyse your nursing skills in different situations.
Similarly, you will be able to coordinate the work and work independently as a nursing expert in your home country and abroad. With our programme, you will be prepared for lifelong learning and have the ability to communicate verbally and in written form with different audiences in and outside the field of nursing.
Our Registered Nurse programme offers a multi-professional learning environment in modern facilities with a simulation centre, clinical skill laboratories and health technology. The studies are implemented in a blended manner combining personal tutoring, e-learning, and clinical nursing practices aimed at deepening your multi-professional evidence-based care.
Complete this form and the student recruitment team will reply to you
Programme Highlights
Internships
Nursing students have several internships throughout the whole duration of their studies, starting already from the first year.
Simulation centre
Our simulation centre enables students to apply and show their skills and knowledge in a safe and controlled environment.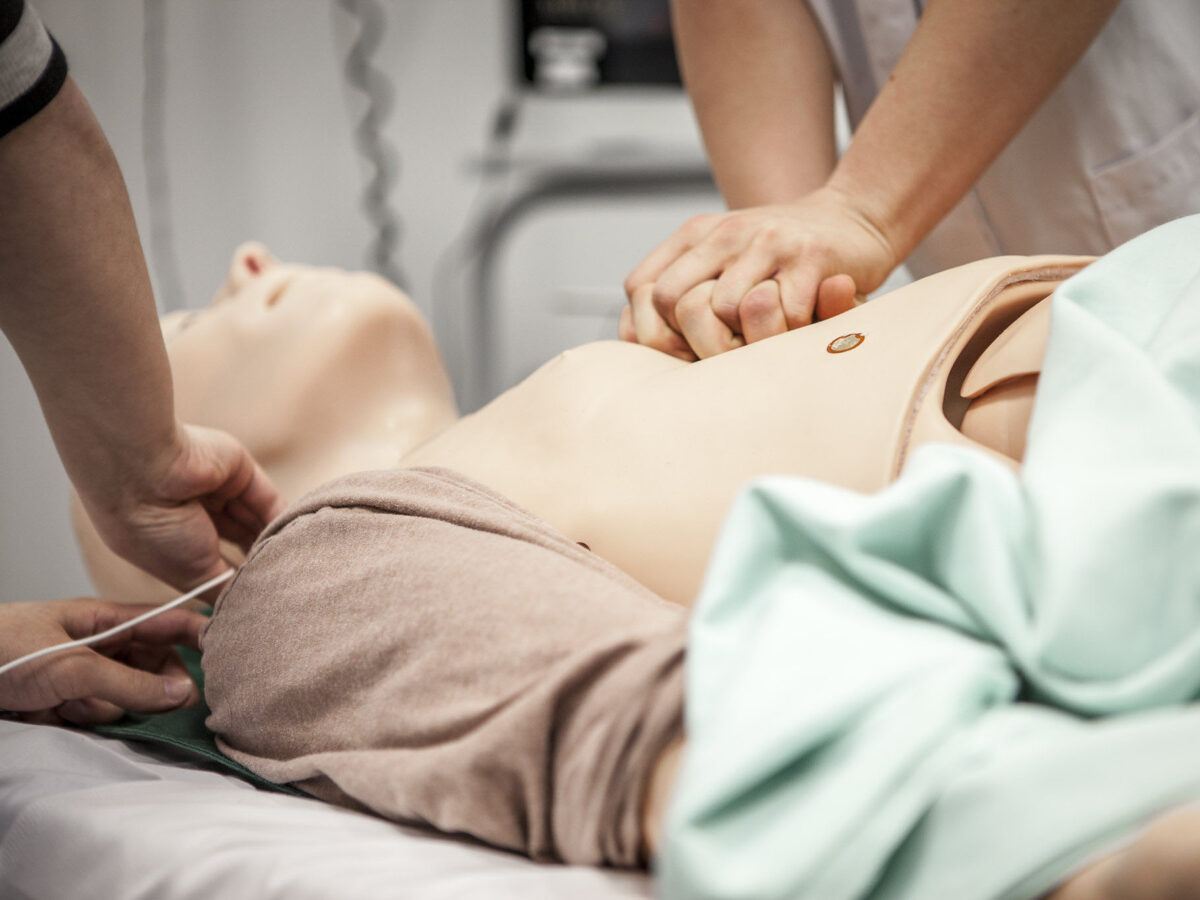 Clinical skill laboratories
The clinal skill laboratories support the continuous development of the students' nursing skills.
Choosing a major or specialisation
The degree consists of 180 ECTS of common studies and 30 ECTS of alternative studies.
At the final stage of the studies, you choose 30 ECTS of alternative professional studies. The alternative professional studies consist of optional professional studies (20 ECTS) and optional studies (10 ECTS).
There are four alternative optional professional studies to choose from, of which only one is conducted in English. The other three optional professional studies are conducted in Finnish. The optional professional studies conducted in Finnish are Acute and Intensive Care Nursing, Mental Health and Substance Abuse Nursing in different environments, and Perioperative Nursing in different environments. Only Internal Medicine and Clinical Nursing in different environments is conducted in English.
Students have good opportunities to study Finnish language during their study years. It enables to choose also optional professional studies conducted in Finnish in the last study year.
You can also include courses in foreign languages and entrepreneurial courses in the optional studies. The training periods will also serve as an opportunity to develop your entrepreneurial skills.
Content of studies
The degree studies are full-time studies and attendance is required in major parts of the courses. The study methods include contact lessons, distance and independent studies, e-learning, internships, and RDI work. Internship periods are full-time studies and attendance is required. To confirm your internship placements, you are required to be active in placements search, and may be required to travel outside Kuopio municipality.
We use versatile methods in our education, such as skills workshops and simulations. The guiding principles in nursing education are intercourse between theory and practice, contact lessons and independent studying both by oneself and in teams as well as learning in different expert cultures. The student takes an active role in the studies.
During the first year of your studies, you will learn to observe a human being as a psychophysical entity, and you will learn the basics of nursing. You will learn to use the nursing values and principles to enhance health and functional ability as well as in nursing medical patients.
During the second year, you will learn to use evidence-based information in the medication of the most common diseases in Perioperative nursing, Pediatric and Family nursing and Mental Health and Substance Abuse nursing fields. After the theoretical studies, you will have internship periods, where you will learn to apply and expand your nursing knowledge in those fields.
During the third year, you can apply and analyze information on gerontological nursing and home care services and, also, implement health promotion, based on the clients' needs. You will be able to assess the development needs in nursing as well as plan and implement solutions to renew and develop nursing. You will also be able to apply the RDI skills you obtained during your studies when planning and writing your thesis.
During the final year of your studies, you will be able to apply, assess and analyze your nursing skills in different fields, coordinate your work and work independently as a nursing expert in an international environment. You will have the ability to communicate both verbally and in writing with different audiences in and outside the field of nursing.
The content of nursing studies starts with becoming familiar with nursing and proceeds to applying the nursing skills in different patient work situations, for example, with patients of different ages and with different diseases. Your skills are developed and deepened during the study process.
Programme structure
The extent of the Degree Programme in Nursing is 210 ECTS. You are expected to complete 60 ECTS during each study year; this means 1600 hours of student work.
The courses in the curriculum constitute wide modules; they are not separate but support the student's overall development and the development of his or her expertise. Consequently, teaching and work-based RDI are combined during the process.
FIRST YEAR: Building Professional Nursing Identity 60 ECTS
Basics of Nursing
Basics of Nursing Knowledge
SECOND YEAR: Developing Professional Skills 60 ECTS
Strengthening Nursing Knowledge
Expanding Nursing Knowledge
THIRD YEAR: Deepening Professional Nursing Knowledge 60 ECTS
Deepening Nursing Knowledge
Developing Nursing Expertise
Passing the national exam for the generalist nurse's core competences
FOURTH YEAR: Applying Professional Knowledge 30 ECTS
Applying professional nursing skills in different areas of operation
You can familiarize yourself with the content of the degree program by using the curriculum.
Qualification
The National Supervisory Authority for Welfare and Health (VALVIRA) grants licensing, upon application and upon the announcement of the UAS, to practice nursing as a licensed professional. The professional qualification of a nurse and the education of a nurse working in general nursing are regulated by the directive 2013/55/EY of the European Parliament and of the Council as well as by the European Qualifications Framework, 2006.
Health requirements and aptitude
Legislation relating to aptitude: The legislation applies to education leading to a degree in applied sciences in the field of health care and social services, the humanities, physical exercise and maritime navigation. These fields have requirements concerning the safety of minors, patient and customer safety or traffic safety that restrict student admission.
In the field of health care and social services, the studies include working with customer groups requiring special protection, in which case ethical requirements and requirements for patient or customer safety are crucial. The health and functional capacity of students shall be such that they can perform assignments and practical training related to their studies.
Those applying to the field should bear in mind that:
studying and working in a profession in this field requires sufficient physical, mental and social capacity
the field of health care and social services is not suitable for individuals convicted of one of the following: offences against children, sexual offences, violent offences, crimes against freedom, or drug offences
the field is not suitable for those who have been drug or alcohol abusers during the last two years
conditions such as musculoskeletal diseases, chronic skin diseases, allergies and mental health disorders may lead to health issues during studies or later on in working life
blood-borne illnesses may restrict practical training and, after graduation, the students' placement in work assignments
many health care and social services operating units care for patients/clients susceptible to infections, and in order to work at these units, students and staff must have up-to-date vaccination cover (e.g. measles, chicken pox, whooping cough). In addition, annual influenza vaccination is required. The required vaccinations are free of charge for students in the field of health care and social services.
Applicants are required to provide information concerning their health status and functional capacity as required to assess admission at the request of the university of applied sciences concerned, as well as information on any possible prior decision on cancellation of their study entitlement.
Students are required to produce an extract from criminal records at the request of the university of applied sciences if working with minors forms an essential part of the tasks assigned to them during their studies or work placement periods that are part of their studies.
Universities of applied sciences are entitled to require a student to produce a certificate of a drugs test if there is any reason to suspect that the student is under the influence of drugs during practical assignments or during a work placement, that is part of their studies, or that the student is addicted to drugs.
Career possibilities
You can work as a nursing expert e.g., at health clinics, in hospital wards and home care services. In addition, care and health care companies, special health care outpatient clinics, wards and operating theatres as well as mental health clinics can be your future employers. You can also have an international career or become an entrepreneur.
Internationality
Our Bachelor of Health Care groups are multinational and multicultural by nature, so you will get accustomed to an international work environment from day one. In addition, the Bachelor of Health Care programme itself is designed for internationalisation. Close cooperation with our international partners brings you in contact with people and organisations outside Finland, making it possible for you to compare views, share knowledge and work side by side on projects by using technology-based communication tools as well as meeting in person.
Student exchange is also a natural and recommended part of your second-year studies, and internships (basic and/or professional) could take you anywhere in the world.
Our exchange partners are e.g., in Australia, Austria, Belgium, Canada, China, India, Kenia, Mozambique, Namibia, Slovakia, Slovenia, Spain, Thailand and the UK.
Our selection of language studies is substantial, complemented by the offerings of the University of Eastern Finland. Multicultural study groups provide a good basis for your personal experiences in all aspects of internationality.
Cooperation
At Savonia UAS we implement OIS (Open Innovation Space) where high-quality learning and teaching are combined with work-based RDI. The student is active and works in different premises, groups, communities and eLearning environments. Students from different fields, teachers and people working in RDI together with representatives from the working life work on different types of assignments and solve various practical problems. Part of the studies is completed by working on various work-based projects.
Research
At the Savonia University of Applied Sciences we have assigned RDI focus areas. The Degree Programme in Nursing focuses on applied welfare technology.
Possibilities to continue studies after graduation
Different types of additional, further and continuing education and training support and enhance your nursing career development. After gaining three years of work experience, you can continue your studies at a UAS and complete a Master's degree there.
Universities also provide possibilities for further education.
Language of instruction
The whole programme is conducted in English. In addition, Swedish (for Finnish students) and other foreign language courses are also included. Please note: the role of Finnish language is important in the studies, as the student will practice professional skills mostly in Finnish working environments. Y Finnish skills proficiency may affect the study choices available especially during the 4th year studies. The counselling personnel will inform students about these in detail when the studies start.