Housing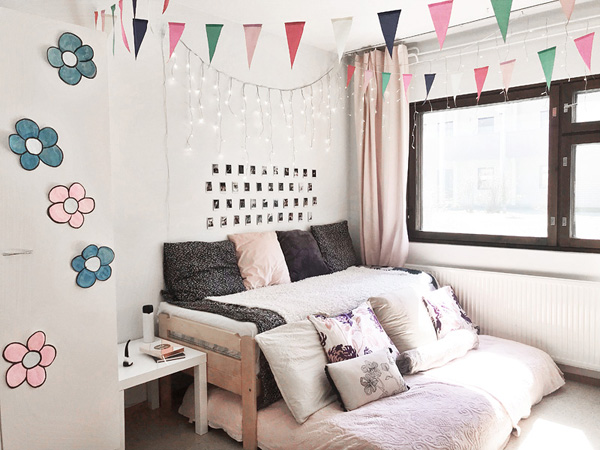 Housing in Kuopio
Kuopas
KUOPAS is a company owned by the City of Kuopio and provides accommodation for students and their families (spouses and children) in the Kuopio area. Kuopas has 30 apartment buildings around the town situated 0.5 – 8 km from the city centre. They offer also some furnished apartments.
Visiting address: Torikatu 15, Kuopio
Tel: +358 (0)20 710 9740
customerservice@kuopas.fi
https://www.kuopas.fi
How to apply?
In order to apply for a Kuopas room or an apartment fill in the application form on the Internet: www.kuopas.fi
Kuopas' guide for exchange and international degree students
TEKMAN
Tekman Tuki association rents rooms and apartments for all Savonia students.
Visiting address: Retkeilijäntie 1 D 2, Kuopio
Tel. +358 (0)17 282 2831
toimisto@tekman.fi
https://www.tekman.fi/en/
How to apply?
In order to apply for a Tekman room or an apartment fill in the application form on the Internet: https://www.tekman.fi/
Rooms and apartments are situated in the areas of Puijonlaakso and Männistö, both close to the town centre. Most apartments are designed for two to three students who share a kitchen and a bathroom. There are also apartments for couples and families. All rooms are rented without furniture.
How to get my keys?
In case you arrive to Kuopio during the opening hours of Kuopas / Tekman office, you can collect your keys from Kuopas / Tekman office. In case you arrive outside the office hours, you can ask your student tutor to pick up your keys and set up a meeting with your tutor after your arrival to Kuopio. Please inform your arrival date by filling in the arrival form stated in your welcome email from Savonia.

Temporary housing in Kuopio
Useful addresses to find a temporary place to stay overnight
http://www.hostellihermanni.fi/en/
https://www.kuopiotahko.fi/en/accommodation/
Housing in Iisalmi
Exchange students can apply for housing at the Petterinkulma Apartments. The rooms are furnished. Contact the International Coordinator of the Iisalmi campus for application instructions.

For a temporary stay you can get housing also at Hostel Iisalmi.
Housing in Varkaus
Students arriving in Varkaus should ask about the accommodation from the Housing Office of Varkaus town and make a reservation for a room after he/she has been granted a residence permit / visa to Finland. Housing is offered by Wartalo Kodit Oy. You can fill in the application form online at http://www.wartalo.fi.
There are also plenty of privately rented apartments available in Varkaus.
Survival kits for exchange students
Student apartments in Kuopio do not contain domestic items such as bed linen, forks, spoons, plates etc. Savonia Student Union Savotta rents domestic item kits (so called Survival kits) to exchange students. Survival kit includes e.g. dish brush, kettle, frying pan, plates, glass, mug, spatulas, knives, forks and spoons, a sheet, blanket cover, pillow case and towels. Exchange students can request from their student tutor in case they wish to obtain the survival kit.

In order to apply, please state that you wish the kit at your Arrival form (link is stated in the email sent by the International Services).

You need to pay a deposit: 60 € for the kit, out of which you get 30 € back at the end of the exchange period if the kit is in good condition.

Student apartments in Petterinkulma housing in Iisalmi contain the basic domestic items (e.g. kitchenware), but you need to bring your own bed linen.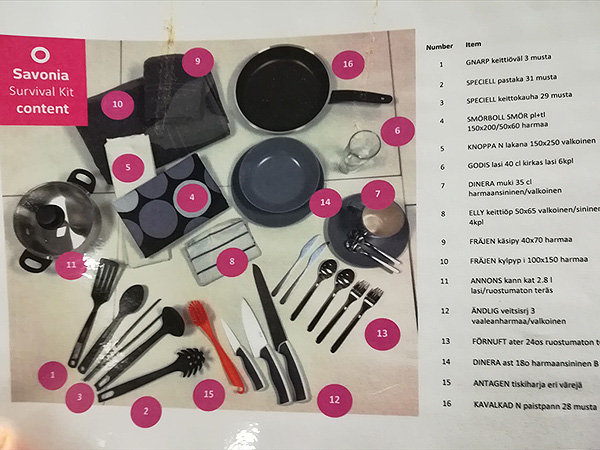 Furniture & household items
In case you need to purchase more furniture or kitchen ware, you can utilize e.g. the local flea markets or facebook groups e.g.
KISA Student Marketplace facebook group
Kirpparilla.fi flea market, Leväsentie 2
Kontti second hand store, Leväsentie 2 (furniture home delivery possible for a fee)
Elävä kauppa, Teollisuuskatu 1 (furniture home delivery possible for a fee)
City Pörssi second hand shop, Kauppakatu 36